MODERN WEDDING DRESSES FOR MODERN BRIDES
Here at GWM Wedding, we're always talking about the latest trends and coming up with creative wedding ideas. That is why today we're going to show you some wedding dress trends that break all the rules, if you're tired of the traditional gown. 
Here are some of this season's modern wedding dresses for our very modern brides:
Pants:
When it comes to formal events the norm can still be very much focused on dresses and skirts. For those who don't feel comfortable when wearing a skirt/dress: Don't wear it!
A bride needs to feel confident and pretty and you can't feel at your best when you just don't feel like you. The best about pants is there are so many options: Jumpsuits, Palazzo pants with a crop top, suits… They're all cool!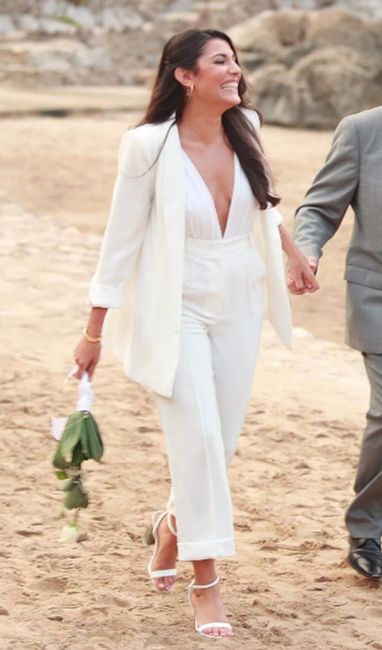 Alba Paul wearing a suit by Ze Garcia
Skirts
We love skirts! When thinking about how to wear a skirt at your wedding, we think about Steph Claire Smith, who looked absolutely stunning wearing a two-piece silk-satin crop top and a high-waisted full skirt that showed off  her phenomenal abs. At GWM, we have plenty of cool skirts and tops that you can match, have a look: 
Steph Claire Smith by One Day Bridal
One Day Bridal
Different sleeves
Brides either love them or hate them. Weird sleeves are trendy! With our latest collection Virago, we decided to bring different sleeves for you. However, our old collections feature many different sleeve looks as well… 
Consider wearing puffy sleeves, they're one of the biggest trends this year! 
Little white dress
Is your wedding in summer? Do you want to be more comfortable? Wear a short dress! We have seen so many at the NY Bridal Fashion Week. Indeed, the "little white dress" is perfect for those brides who want to wear something different and chic. The best? You won't have to worry about the train when you're dancing!
Monique Lhuillier
Marchesa Bridal
Colour
No, your wedding dress doesn't need to be white to be breathtaking! At GWM, we have dresses in pink, blush, peach, champagne, nude… While ivory will forever be classic and beautiful, there's something unique about wearing a coloured wedding dress. While blush is fast becoming the new take on the white gown, there are many colours out there to choose from! 
The GWM Team